Greater Miami Jewish Federation draws over 500 to real estate event
Meland Budwick, P.A. | October 9, 2015
By: Brian Bandell
October 9, 2015

Click here to view more photos.
More than 500 people attended the Greater Miami Jewish Federation's 18th annual Sunset Over Miami event for real estate professionals on Oct. 8.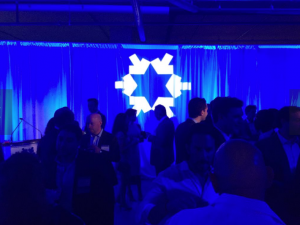 The event at the University of Miami Life Science & Technology Park attracted many of South Florida's most prominent real estate players, including Plaza Construction President Brad Meltzer, Comras Co. CEO Michael Comras, Meland Budwick, P.A. Partner Mark Meland, Realty Masters CEO Don Ginsburg, and 13th Floor Investments Managing Principal Arnaud Karsenti.
Event co-chairs Etan Mark and Jason Haim said the host committee raised more than $90,000 for the federation. The group is planning a trip to Israel in 2016 to learn about real estate investing there.