Case to Watch: International Litigation Over Cryptocurrency Could Set Federal Precedent
Michael A. Mora | January 27, 2021
Sean Syder led a federal lawsuit against the defendants after he lost half of his $1 million cryptocurrency investment on their online platform.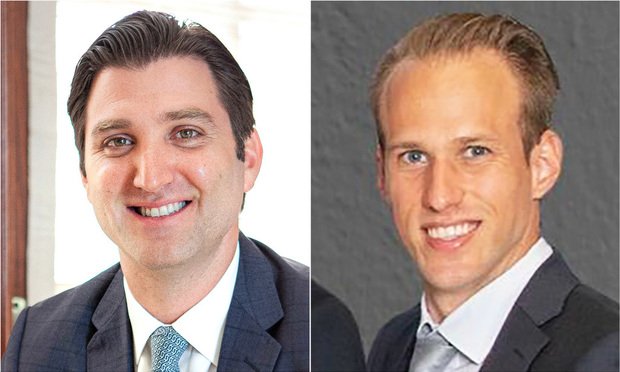 Gabriel Groisman and Gil Ben-Ezra, a partner and an associate with Meland Budwick in Miami, who represented Stx Technologies Ltd. and Moshe Hogeg Courtesy Photo
Two South Florida litigators recently beat a securities and fraud lawsuit based on a cryptocurrency "investment" gone bad in Washington federal court for their overseas clients.
The attorneys, Gabriel Groisman and Gil Ben-Ezra, a partner and an associate with Meland Budwick in Miami, represented Stx Technologies Ltd. and Moshe Hogeg in the case. The lawyers said this international litigation is part of an emerging body of law related to cryptocurrency foreign sales, such as utility tokens.
"We are in a time where cryptocurrency and related markets are continuing to grow," Groisman said. "The more people involved in the industry that buy utility tokens means there is going to be an increase in litigation related to it. And the courts are dealing with this fast pace industry in an ecient manner."
In this case, the dispute involved the plainti, Sean Syder, who lost half of his $1 million online cryptocurrency investment. Stox, a technology company based in Gibraltar, created the open-source, Ethereum based, online platform where traders, like Syder, can make wagers on the outcome of events in any category using Stox's tokens to make such predictions.
Syder sued Stox and Hogeg, an Israeli entrepreneur, claiming purported statements by the defendants that inuenced his acquisition of utility tokens from unrelated third parties on the secondary market. The lawsuit alleged fraud, racketeering, breach of contract and violations of Washington securities laws. And for Hogeg, the accusations followed a string of domestic and overseas lawsuits.
Heather J. Van Meter, the managing partner at Practical Solutions Law in Vancouver, Washington, who unsuccessfully represented Snyder in the international litigation, pointed to Washington nancial regulators that are currently investigating Hogeg on similar allegations.
"A lot of the people getting caught up in cryptocurrency fraud schemes like this are blue-collar regular people," Van Meter said. "And that is precisely what our laws is supposed to protect, the unsophisticated investors — sheet metal workers, hairdressers and housewives — from being defrauded by these schemes."
Groisman said the case provided precedent in dening the boundaries of the U.S. jurisdiction over international players in the online market for cryptocurrency and utility tokens. Plus, the limitations of liability for issuers of these cryptocurrencies for traders who purchase the tokens on the secondary open market.
Now, U.S. District Court Judge Robert J. Bryan, who sits in the Western District of Washington, has dismissed the lawsuit. Bryan, in his reasoning, stated the court "did not have general jurisdiction over the defendants or specic jurisdiction over the defendants for plainti's claims that sounded in contract."
In addition, Bryan stated the remaining claims failed to state a basis for relief and that Snyder will not have another chance to amend the complaint. The federal judge cited Washington law, which stipulated nine elements of fraud that must be "established by clear, cogent, and convincing evidence," as well as the requirement to prove the elements of negligent misrepresentation by the same standard.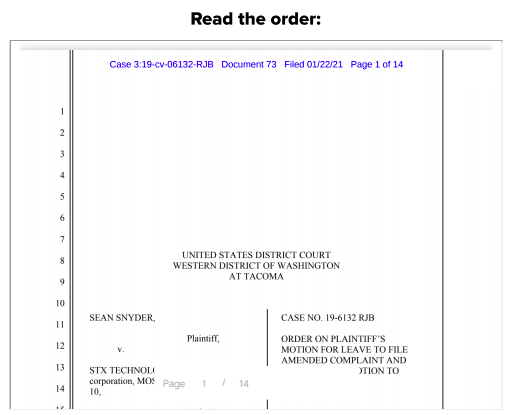 Bryan took note that the plaintiff had "three opportunities to properly plead a claims [sic] for fraud and misrepresentation," adding, "he has once again failed." As a result, the Meland Budwick clients have avoided reimbursing Snyder's $500,000 portion of his lost investment and additional damages the plaintiff sought from the federal court.
And for Groisman and Ben-Ezra, they intend to use the success from this case to build their overseas client base, especially in the booming Israeli tech scene.
Groisman said: "The future is going to be lled with litigation related to cryptocurrency and utility tokens."
READ MORE:
Miami Litigator Collects on Final Judgment Against Elusive International Defendant (https://www.law.com/dailybusinessreview/2020/12/18/miami-litigator-collects-on-nal-judgment-against-elusive-international- defendant/)
Get to Know the Miami Lawyer Behind High-Parole Venezuelan Prosecutions (https://www.law.com/dailybusinessreview/2020/12/21/get-to-know-the-miami-lawyer-behind-high-prole-venezuelan- prosecutions/)
$140M Class Action Against 44 Top Herbalife Distributors Reopens in Miami Federal Court (https://www.law.com/dailybusinessreview/2020/10/06/140m-class-action-against-44-top-herbalife-distributors-reopens-in-miami- federal-court/)