GE Capital and Petters-related fund in legal battle
David Phelps | September 3, 2014
The Ponzi scheme-related hedge fund is locked in a billion-dollar legal battle.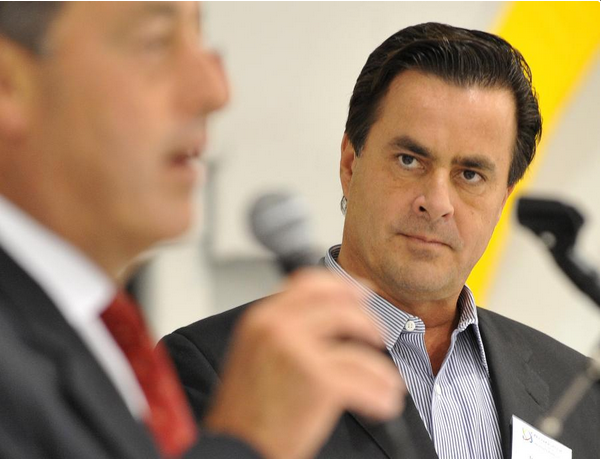 A billion-dollar legal battle is brewing in Florida over who knew what and when about the decade-long Ponzi scheme operated by former Wayzata businessman Tom Petters.
The bankruptcy trustee for two failed Florida hedge funds that lost more than $1 billion in the Petters operation accuses General Electric Capital Corp., a major financing firm, of failing to warn regulators or law enforcement that it detected the fraud eight years before the scheme crashed in late 2008.
"GECC could have reported it and stopped Petters cold, saving victims billions of dollars," said Michael Budwick, the attorney for Palm Beach trustee Barry Mukamal. "But instead, GECC joined the fraud and knowingly got paid tens of millions of dollars from defrauded investors. That is outrageous."
GE contends its financial relationship with Petters was long over by the time the hedge funds, known as the Palm Beach funds, started investing with him. In a court filing, GE asserts that the hedge fund managers failed to perform adequate due diligence and were themselves guilty of fraud for misleading their own investors.
GE Capital ''has not and has never been a conspirator with Petters in any way and did not know about the existence of or agree to be a member of the alleged 'conspiracy,' " the company said in court papers.
Petters was found guilty on 20 counts of fraud, conspiracy and money laundering in 2009 for his role as ringleader of the $3.65 billion Ponzi scheme. He claimed to be buying consumer electronics and other goods from wholesalers and reselling to big-box retailers such as Costco and Sam's Club. In reality, orders were being faked money from new investors was used to pay off earlier investors.
Petters' three-year relationship with GE Capital was critical to his ability to sustain his operation. The revolving line of credit with GE Capital that he secured in 1998 gave him credibility in the investing world and helped him stay in business until 2008.
"It was his first source of corporate funds as opposed to funds from individuals," Jon Hopeman, Petters' criminal defense attorney, told the Star Tribune.
Petters and his close associates, primarily Bob White and Deanna Coleman, offered investors high rates of interest for short-term loans ostensibly to finance the purchase of electronic goods at the manufacturer's level for sale to big box retailers. But there were no sales.
In documents filed in the lawsuit, GE Capital says its $50 million revolving credit line with Petters and his companies was a standard lending arrangement that lasted from 1998 until 2000.
During that time, GE Capital became concerned when Petters' payments started arriving late. Petters blamed Costco for the delays. GE Capital contacted Costco, and officials at the discount retailer reported that the purchase orders that Petters provided to GE Capital as proof of sales were not legitimate.
GE Capital canceled Petters' line of credit. Eventually, he paid his loan amount in full, presumably from money gleaned from other investors.
During Petters criminal trial in 2009, two GE Capital employees were key government witnesses. One of them testified that Petters was livid when he learned that GE Capital had contacted Costco about purchase orders.
"We had stopped funding. We said the loan was not working the way it was intended to," testified Paul Feehan, a GE risk manager at the time. "We were taken aback by the information" from Costco.
Then a series of checks from Petters to GE Capital to repay the loan bounced. At that point, according to the Palm Beach lawsuit, Petters told GE Capital that he would obtain funds from other investors to pay off the credit line.
The Palm Beach suit, filed nearly two years ago, is about to enter an intense discovery phase, including depositions of principal players in the case. A trial is still more than a year away.
Petters has been interviewed several times by attorneys for the hedge funds at the federal prison in Leavenworth, Kan., where he is serving a 50-year sentence for conspiracy, fraud and money laundering. Twelve others also received prison sentences for their roles in the fraud.
"My motivation has always been to help those that lost money unknowingly," Petters said in an e-mail to the Star Tribune. "I have NEVER been motivated to help those that helped perpetuate the fraud and knew about it."
Connecticut-based GE Capital said it had no responsibility "to disclose its private business dealings" with Petters, whose corporate empire grew from a chain of retail outlet stores to include Sun Country Airlines, Polaroid and mail-order retailer Fingerhut.
"In short, GECC had no knowledge of the multibillion-dollar Petters Ponzi scheme, never joined the so-called 'conspiracy' alleged by the trustee, performed no acts or omissions in furtherance of such 'conspiracy' and bears no responsibility for the losses occasioned by the Palm Beach Funds' own criminal, fraudulent and negligent acts," GE Capital states in its brief containing answers to allegations in the lawsuit.
The criminal reference is to the two fund managers for Palm Beach, Bruce Prevost and David Harrold, and their conduit to Petters, Frank Vennes, Jr., who are currently serving prison sentences on various fraud charges for misleading investors about details of their investment in the Petters operation.
A GE spokesperson said, "Because this is pending litigation, we aren't going to comment beyond what is in our filing, which directly negates each allegation in the trustee's only remaining claim."
The Palm Beach funds, which filed for bankruptcy in 2009, cite internal GE Capital memos, voice mails and testimony presented at Petters' 2009 criminal trial as evidence of the company's knowledge of the fraud before its loans were repaid and its credit line with Petters was closed.
When large financial losses occur in a business transaction, it is not unusual for lawsuits to be filed in the hopes of recovering part of the loss.
"A lot of money is at stake here and GE has deep pockets to go after," said Ted Sampsell-Jones, a professor at William Mitchell College of Law who has followed the Petters case for six years. "When you lose a lot of money you try to find someone to sue and you need someone to sue who has money. Even if it's a one-in-100 chance, it's worth the try."
That strategy worked two years ago for Twin Cities-based trustee Doug Kelley, who handled the Petters corporate bankruptcy. GE Capital agreed to pay $19 million after Kelley argued that GE Capital "knew or should have known" about the fraudulent scheme. The $19 million represented "false profits" collected by the lender, Kelley asserted.
In that case, while GE Capital agreed to the $19 million payment, it denied "any and all liability."