Coronavirus Thwarts Bidding for Costa Hollywood Beach Resort's Unsold Units
Lidia Dinkova |August 18, 2020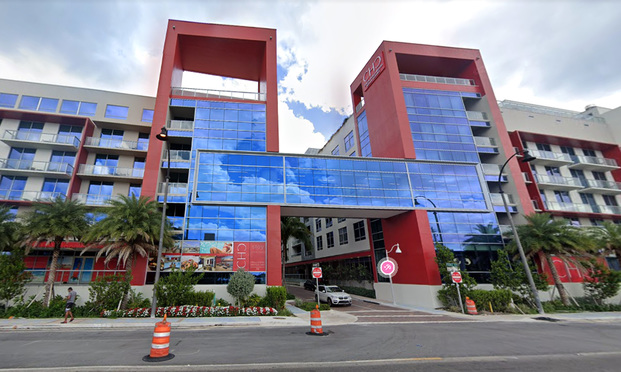 Google Street view of Costa Hollywood Beach Resort at 777 N. Ocean Dr.
Dozens of unsold units at the beachfront condo-hotel are expected to end up in the hands of the lender, which offered a $43 million credit bid in a bankruptcy auction that drew no bidders.
Costa Hollywood Beach Resort's unsold units were slated for a bankruptcy auction and generated plenty of interest but no qualified bidders, more than likely because the coronavirus pandemic put the hospitality industry in a historic nosedive.
777 N. Ocean Drive LLC, the lender on the project that sought to foreclosure on the development team after it stopped paying, is in line to buy the unsold units under its $43 million stalking-horse bid.
The lender, an affiliate of New York-based private equity firm Madison Realty Capital, offered a credit bid, which counts against the overdue loan.
U.S. Bankruptcy Judge A. Jay Cristol of the Southern District of Florida set a hearing on a final sale for Aug. 26.
"In this market, especially after COVID hit, it's a little bit harder to take out a secured lender that's coming in with a credit bid of $43 million. It's a lot of money," said debtor's attorney James Moon.
Moon, a partner at Meland Budwick in Miami, said he doesn't know if the pandemic is to blame but guesses that's the reason for an absence of bidders. Over 180 groups expressed interest, signing confidentiality agreements with broker Cushman & Wakefield, but none qualified.
"The fact is we didn't get qualified bids even though a bunch of people signed," he said. "It's hard for somebody to come in with a qualified bid knowing they have to match the secured lender."
The 326-unit Costa Hollywood condominium-hotel, steps from the beach at 777 N. Ocean Dr., became distressed before the coronavirus pandemic. The lender, which issued $70 million in project financing in 2016, filed for foreclosure in Broward Circuit Court in April 2019 against the development group, Costa Hollywood Property Owner LLC. It's led by developer Moses Bensusan, CEO of the Liberty Grande LLC real estate firm.
Costa Hollywood, which owns 43 unsold residential units, nine commercial units and the common area, filed for Chapter 11 reorganization last September. Qualified bids were due last Thursday, but with no bidders an auction scheduled for Monday wasn't held.
Cristol already approved the stalking-horse bidder's purchase and sale agreement.
The remaining 274 condo units were sold to either people or companies that own their units or participate in the hotel rental management agreement in return for a percentage of the rental income.
Broward County ordered hotels to shut down in late March and allowed them to reopen in late May, but Costa Hollywood remained closed.
It's difficult to reopen in the middle of the summer, South Florida's slow season, with no reservations in the pipeline and amid fears of a second coronavirus wave, Moon said.
"Once you shut down a hotel, it's not as simple as turning the lights back on," he added.
The lender paid budget shortfalls and vendors after the hotel closed. The company technically could raise its credit bid to nearly $50 million, reflecting its full debt on the property.
In a recession, a shuttered property loses value, and buyers are looking for good deals on distressed property, Moon said.
"We were already a distressed property," he added, "COVID just blew the bottom out of us."