How South Florida Firms Are Pushing Toward Full-Vax
Dan Roe |May 28, 2021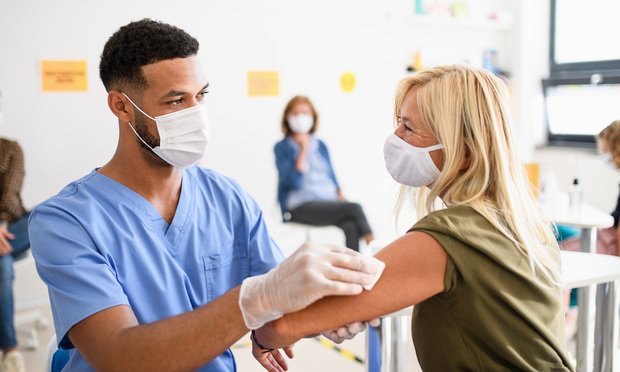 How South Florida Firms Are Pushing Toward Full-Vax
At the time of this writing, 38% of Floridians are fully vaccinated from COVID-19. In the legal community, that number is likely higher — all of the firm leaders we've spoken to over the past month have said most of their attorneys and staff got the vaccine at their first chance.
But getting to 100%, or close enough to achieve herd immunity (the Cleveland Clinic puts the figure at 70% to 85%), often means encouraging people who don't want the COVID-19 vaccine for various reasons. Some are religiously opposed, and others worry it could cause complications with underlying conditions.
Perhaps the biggest unvaccinated cohort, according to firm leaders, exists outside of those two justifications. Some folks simply don't want the vaccine, for reasons including mistrust in its rapid development or the notion that they don't need it.
Mixing fully vaccinated and unvaccinated employees is a topic on nearly every firm leader's mind as many return to the office after more than a year of remote work. To help you negotiate the issue, we brought together a handful of local firm leaders to discuss how they came up with their vaccine policies and how those policies affect daily life at the firm.
Weiss Serota Helfman Cole & Bierman
The 77-attorney law firm with three South Florida offices (and one in Tampa) is requiring all employees to get vaccinated prior to returning to the office on June 1, except for those with a medical 'risk exemption' or 'sincerely held religious beliefs,' said managing director Mitchell Burnstein.
"We did have a couple of folks that didn't fall within these categories, who weren't comfortable getting the vaccine," Burnstein said in an interview. "We will accommodate people that have one of these exemptions, but that's as far as we're willing to go."
Those employees may still work in the office, Burnstein said, but they'll be required to wear masks, socially distance themselves from colleagues, and won't be able to use common areas as liberally as fully vaccinated employees (who won't be required to wear masks).
Becker
The 138-lawyer firm headquartered in Fort Lauderdale has been tracking vaccinations by asking employees to send in copies of their CDC vaccination records when they receive them, said managing shareholder and CEO Gary Rosen in an interview. As of last week, more than half of employees had submitted cards, and Rosen said he expects that number to grow in the coming weeks.
While the firm has encouraged vaccinations in regular Zoom meetings, Rosen said it stopped short of requiring them, although unvaccinated employees will need to wear masks outside their personal office spaces.
"We briefly considered requiring employees to become vaccinated," he said. "And we fairly quickly rejected that somewhat draconian approach in favor of strong messaging encouraging our folks to do so."
Tripp Scott
The 47-lawyer Fort Lauderdale firm won't be requiring vaccinations when employees return full-time following the July 4 weekend. In an interview, COO Paul Lopez said the firm has been asking employees to notify it when they become vaccinated.
"We're at about 80% fully vaccinated," Lopez said. "While we haven't made it mandatory, it's strongly encouraged. We're trying to give everyone enough lead time to get comfortable with the idea of coming back to work."
Cozen O'Connor
The Am Law 200 firm is encouraging attorneys to get vaccinated, but not requiring it, said Miami office managing partner Susan Eisenberg.
"We're posting pictures of people getting vaccinated, we're giving hourly employees four hours of PTO if they want to get vaccinated," Eisenberg said in an interview. "We're doing what we can to ease the path for whoever does want to get the vaccine."
Eisenberg said she understands, based on voluntary disclosure among Miami employees, that all but two attorneys and two staffers are not vaccinated (with one attorney planning to get the shot).
Kelley Kronenberg
The 175-attorney insurance defense law firm has been open and mostly staffed since October 2020, said chief human resources officer Barbara Repandis, adding that team managers are encouraging their employees to get vaccinated. While she doesn't have an exact count, Repandis said she estimates about 50% of employees are vaccinated, with that number likely to increase in recent weeks.
Avila
The 25-lawyer business law firm is not formally encouraging vaccinations.
"We are informally keeping track of how many people have gotten vaccinated; I think everyone talks about it when they get vaccinated," said managing partner Patricia Hernandez in an interview. "The vast majority of employees have gotten vaccinated, so we're probably reaching herd immunity in the office."
Meland Budwick
The 19-attorney Miami law firm is encouraging its attorneys to get vaccinated, said managing partner Eric Ostroff. "We've been communicating the message to everyone as well as providing an incentive," he said in an interview. "For our staff members, anyone who provides evidence of being fully vaccinated gets an extra PTO day."
A survey of attorneys and staff showed that 15% said they didn't intend to get the vaccine.
Mark Migdal & Hayden
The 14-lawyer Miami litigation boutique has all but one of its employees vaccinated, said founding partner Etan Mark earlier this month.
"I guess personally I'm encouraging everyone to get vaccinated in life, not just at my firm," said Mark. "And I'm certainly encouraging all of my colleagues and partners and staff at the firm to get vaccinated because I think that that's a good thing for them to do."
Read more: https://www.law.com/dailybusinessreview/2021/05/28/how-south-florida-firms-are-pushing-toward-full-vax/