Bittersweet: Second Meland Budwick Partner Departs Firm This Year to Rise to the Bench
Michael A. Mora |August 17, 2020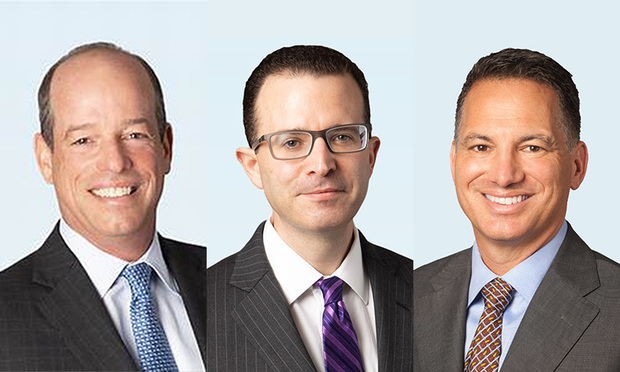 U.S. Bankruptcy Court for the Southern District of Florida Judge Peter Russin; Eric Ostroff, managing partner, and Mark S. Meland, a partner and cofounder of Meland Budwick. (Courtesy photos)
The firm is expecting partners such as James C. Moon, Solomon B. Genet Daniel N. Gonzalez and Joshua Dobin to fill the leadership void left by the new federal bankruptcy judge.
For the second time this year, a partner at Meland Budwick has left the Miami law firm after receiving a judicial appointment.
And this time, it is Peter Russin, a former rainmaker at the firm. Russin was appointed by the U.S. Court of Appeals for the Eleventh Circuit as a bankruptcy judge for the Southern District of Florida.
The earlier departure occurred when Florida Gov. Ron DeSantis appointed then-Meland Budwick partner Zachary James to the Miami-Dade Circuit Court in April.
The newest judge, Russin, teamed with Mark S. Meland more than 25 years ago to found the law firm, once known as Meland Russin & Budwick.
Meland expected the latest move. He said Russin told him years ago of his desire to enter public service.
Because new federal judges must pass an FBI background check after their selection, Meland Budwick has been preparing for Russin's departure since early March.
"Certainly it's hard for our firm. It's sad for our firm," Meland said. "But the community has gained something tremendous. And bankruptcy lawyers are high-fiving right now, because they're going to have a great judge."
Now, Michael Budwick is expected to lead the firm's bankruptcy practice in the near term, with partners James C. Moon, Solomon B. Genet, Daniel N. Gonzalez and Joshua Dobin also filling the leadership void left by Russin.
Russin, who earned his law degree degree from George Washington University in 1988, practiced bankruptcy and commercial litigation from graduation until he was sworn in as a judge on Friday.
At Meland Budwick, he represented corporate debtors, secured lenders, creditors' committees, asset purchasers and trustees in bankruptcy cases. He also counseled clients through out-of-court workouts and private debt restructurings.
Eric Ostroff, a managing partner at Meland Budwick, said the firm is resilient, and despite the second change in the partnership ranks this year, will be able to absorb the loss.
"The cases that Russin was working on got distributed among various lawyers in the firm," Ostroff said. "We were able to transition all the cases, so there is no interruption in client services."
Meland Budwick has hired attorneys in the last month, leaving the law firm with eight partners and 15 lawyers. Meland said two of the new hires transitioned from Big Law firms to the join the "specialized boutique" to pursue career growth.
Still for Meland, the departure of his firm's co-founder and his colleague of nearly three decades has been bittersweet, although Russin accomplished a long-sought after aspiration.
"You can't replace Peter Russin. Our culture is deeply influenced by him, and will be forever," Meland said. "But we certainly have the capabilities to take on everything we used to do, and we have to do."